Economic calendar (Universal time)
The economic calendar is not yet released today. However, it is expected to publish an important indicator from the US (consumer price index, 13:30 UTC+00).
EUR / USD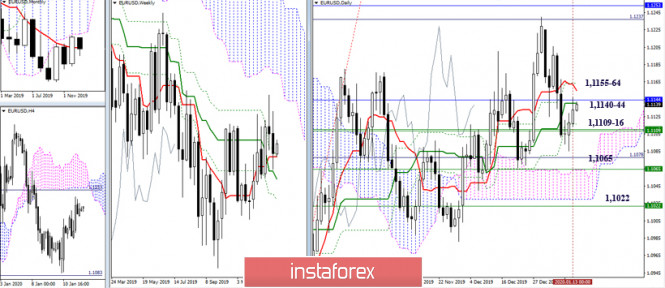 The pair continued to rise and stopped at the resistance zone, combining important levels at 1.1140-44 (daily Kijun + monthly Tenkan). This strengthening is quite a good reference point to complete the rise and return to bearish activity. In the case of breaking through the resistance, they can keep the daily levels 1.1155-64 (Tenkan + Fibo Kijun) next time. On the other hand, support for the last day did not change its value and location 1,1109-16 – 1,1065 – 1,1022 (weekly Tenkan + weekly Fibo Kijun + daily Fibo Kijun + daily cloud + weekly Kijun + weekly Fibo Kijun).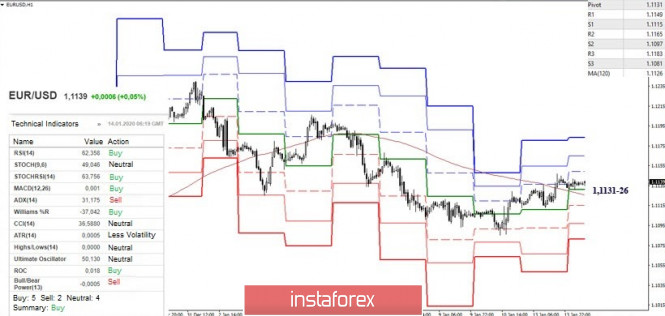 At the lower time intervals, the players on the upside have managed to reached the location as well as the supports of all the analyzed technical instruments by this time. The advantage is now on the side of the bulls and the upward reference points within the day are the resistance of the classic Pivot levels 1.1149 – 1.1165 – 1.1183. It should be noted that now the pair has met resistance of the upper halves, which may affect the further development of the situation. Today, the zone of support and change of mood is in the area of 1.1131-26 (central Pivot level + weekly long-term trend).
GBP / USD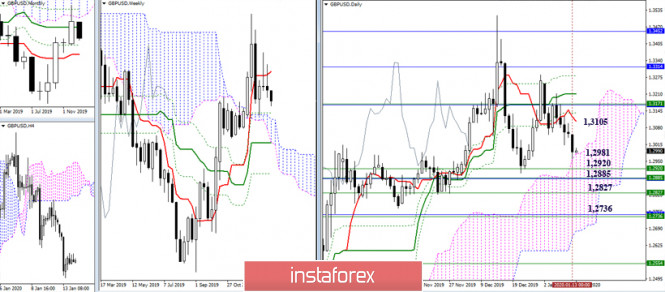 Yesterday, the players on the downside managed to continue the decline using the potential of the past and the existing advantage at the opening of the current week. As a result, support for the daily cloud was met (1.2981 Senkou Span A). The day cloud currently concentrates in itself the support of different time intervals, uniting them into a fairly wide area (1.2920 – 1.2885 – 1.2827 – 1.2736). Securing in the cloud will allow us to consider a further decline, while the key role, which implies the next braking and the formation of the next rebound, can get any of the supports listed above.
Meanwhile, in the lower halves, the advantage of the players to decline is maintained. At the moment, the emerging correction has led the pair to the resistance of the central Pivot level (1.3000). Now, consolidating above will allow us to consider the further development of the upward correction. The main upward reference will be the resistance to the weekly long-term trend, which is now located at 1.3068. If you exit the correction zone and continue the decline, intraday support can be provided by the classic Pivot levels 1.2946 – 1.2907 – 1.2853.
Ichimoku Kinko Hyo (9.26.52), Pivot Points (classic), Moving Average (120)
The material has been provided by InstaForex Company – www.instaforex.com