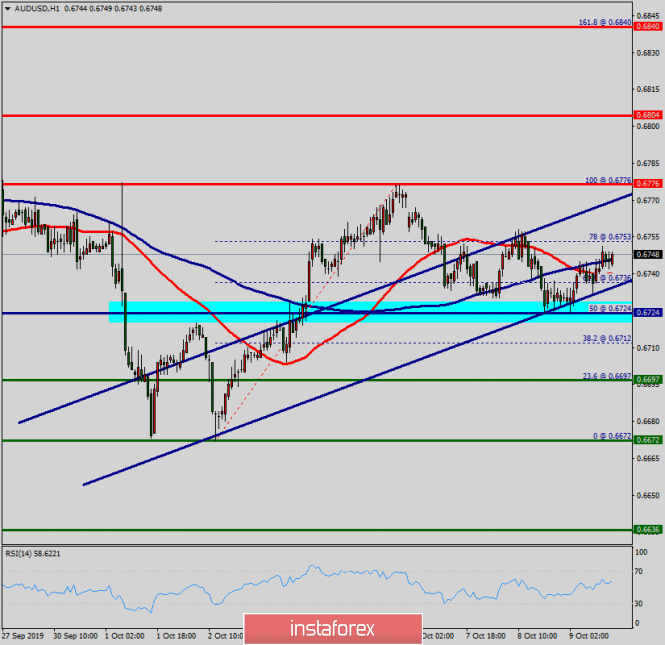 Overview:
The AUD/USD pair was trading around the area of 0.6724 a week ago. Today, the level of 0.6724 represents a weekly pivot point in the H1 time frame.
The pair has already formed minor resistance at 0.6776 and the strong resistance is seen at the level of 0.6804 because it represents the weekly resistance 2. So, major resistance is seen at 0.6804, while immediate support is found at 0.6776.
Further close above the high end may cause a rally towards 0.6776. Nonetheless, the weekly resistance level and zone should be considered.
Therefore, there is a possibility that the AUD/USD pair will move upside and the structure of a fall does not look corrective. The trend is still above the 100 EMA for that the bearish outlook remains the same as long as the 100 EMA is headed to the upside.
Thus, amid the previous events, the price is still moving between the levels of 0.6724 and 0.6776. If the AUD/USD pair succeed to break through the resistance level of 0.6776, the market will rise further to 0.6804 as as the second target.
This would suggest a bearish market because the RSI indicator is still in a positive spot and does not show any trend-reversal signs. The pair is expected to rise lower towards at least 0.6804 so as to test the daily resistance 2.
On the contrary, in case a reversal takes place and the AUD/USD pair breaks through the support level of 0.6697, then a stop loss should be placed at 0.6650.
The material has been provided by InstaForex Company – www.instaforex.com