GBP/USD
Analysis:
The British pound has been growing for more than 3 months in a row. The high wave level of the rising wave makes it possible to classify it to the TF scale not less than H4. Since the middle of last month, the price forms a flat correction. Signals of its early completion have not yet been formed.
Forecast:
In the coming trading sessions, the price is expected to move between the counter zones. In the European session, an upward trend is more likely. By the end of the day, you can expect a second attempt to pressure the support zone.
Potential reversal zones
Resistance:
– 1.2870/1.2900
Support:
– 1.2800/1.2770
Recommendations:
Until clear reversal signals appear, buying the pound is premature. Transactions are possible within the intraday. It is better to reduce the size of the lot when buying. Sell signals should be looked for in the resistance area.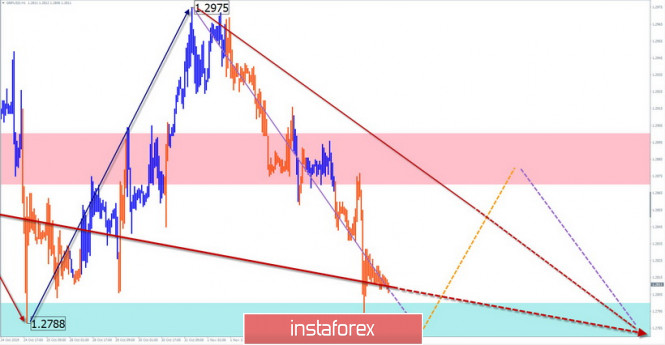 USD/JPY
Analysis:
On the chart of the Japanese yen since the beginning of the year, an upward wave model is formed. Its structure has the wrong kind. The final section counts from August 5 and sets the direction of the short-term trend. The price is approaching the lower boundary of the wide potential reversal zone.
Forecast:
In the first half of the day, a flat mood of the pair's movement is likely, with a downward vector. A change of the rate and activation of price movements are likely in the US session.
Potential reversal zones
Resistance:
– 109.70/110.00
Support:
– 109.10/108.80
Recommendations:
Yen sales are possible only in the next session. It is necessary to take into account the probability of sharp counter-rollbacks. It is recommended that you focus on finding pair buy signals.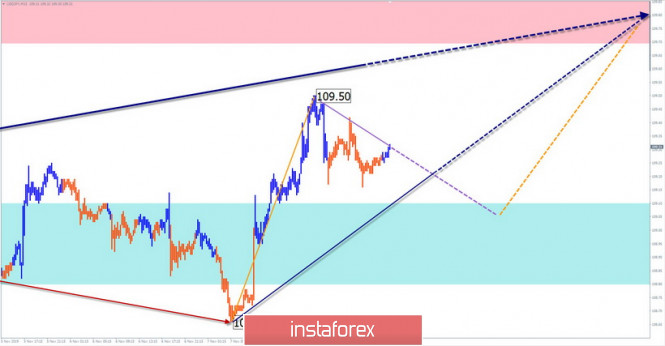 Explanations: In the simplified wave analysis (UVA), the waves consist of 3 parts (A-B-C). The last unfinished wave is analyzed. The solid background of the arrows shows the formed structure, dotted – the expected movement.
Attention: The wave algorithm does not take into account the length of time the tool moves!
The material has been provided by InstaForex Company – www.instaforex.com