EUR/USD
Analysis:
The direction of the short-term trend of the European currency in the main major since the end of July is set by a flat downward correction wave. Now it looks like a shifting plane, however, it may continue. There are no signals of a course change on the chart yet.
Forecast:
The scenario described in the previous review is expected to continue today. A general downward movement vector is likely. Short-term pressure on the resistance zone is possible in the next session. The scope of the daily downward movement will limit the calculated support.
Potential reversal zones
Resistance:
– 1.1860/1.1890
Support:
– 1.1790/1.1760
Recommendations:
Until the end of the entire current downward wave, euro purchases are premature. Within the intraday, you can sell a pair with a reduced lot.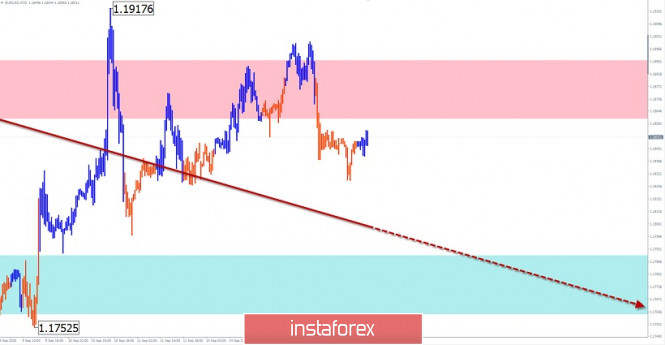 AUD/USD
Analysis:
The last section of the dominant upward trend of the Australian dollar started on August 20. Its structure shows a complete zigzag of the first parts of the wave (A-B). The upward segment from September 9 has a reversal potential and may be the beginning of the final part (C). A pullback has been forming on the chart since last week.
Forecast:
Today, the pair's movement is expected to be mostly flat, in the price corridor between the opposite zones. In the first half of the day, you can count on a downward vector. By the end of the day, a reversal and the beginning of price growth is likely.
Potential reversal zones
Resistance:
– 0.7320/0.7350
Support:
– 0.7250/0.7220
Recommendations:
Today, trading on the pair's market is only possible within a day. Sales are riskier, so it is better to make the lot minimal. After the rollback is completed, purchases will be prioritized.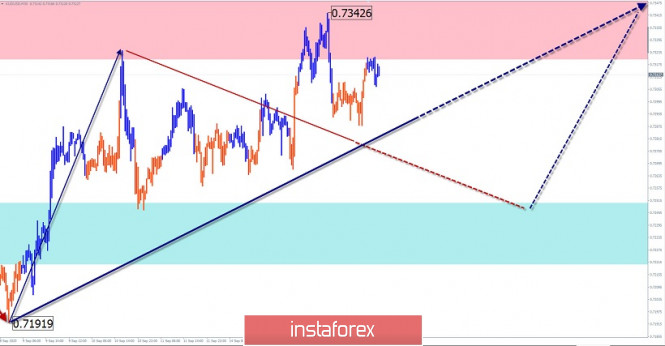 Explanation: In the simplified wave analysis (UVA), waves consist of 3 parts (A-B-C). The last incomplete wave is analyzed. The solid background of the arrows shows the formed structure, and the dotted one shows the expected movements.
Note: The wave algorithm does not take into account the duration of the instrument's movements in time!
The material has been provided by InstaForex Company – www.instaforex.com