4-hour timeframe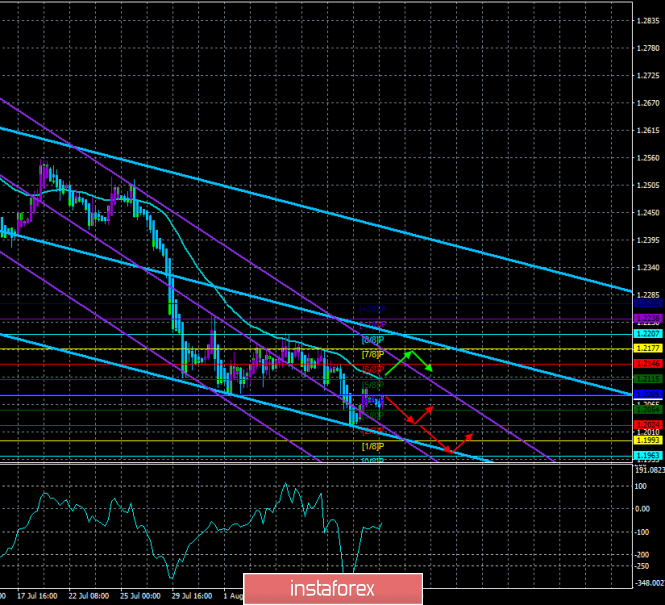 Technical data:
The upper linear regression channel: direction – down.
The lower linear regression channel: direction – down.
The moving average (20; smoothed) – down.
CCI: -60.9673
Earlier, we have repeatedly said that the initiatives of Boris Johnson about Brexit by all means, that is, the "hard" Brexit, are not supported by all. The Parliament, which out of 650 members has 200 Labor (ardent opponents of the "hard" Brexit) and 258 Conservatives, which theoretically can support Boris Johnson, is far from the fact that it will approve the "divorce" with the European Union without agreement. Mark Carney has long opposed the "hard" Brexit, warning that the consequences will be devastating. Now, it became known that the population of the UK is actively preparing for October 31, purchasing food and necessities. In total, each Briton spent an additional 380 pounds on these items. A little earlier, British Foreign Minister Dominique Raab said that Brussels will be responsible for the "chaotic" Brexit. Raab believes that since Brussels refuses to conduct new negotiations on the terms of the "divorce", Brussels is responsible for all the consequences. Very convenient logic. The fact that it was the British government (Theresa May) that reached an agreement with the EU, and then the same British government (Parliament, whose composition remained unchanged) rejected the agreement 3 times, does not matter for Boris Johnson and Dominic Raab. Well, let's see where Johnson's politics will lead Great Britain and whether only England and Wales will remain from the United Kingdom in a few years. Pound sterling today is minimally adjusted, however, it retains excellent chances for the resumption of the fall. The unemployment rate in the UK in June rose to 3.9%, and wages rose, but these reports are not particularly interested in currency traders.
Nearest support levels:
S1 – 1.2054
S2 – 1.2024
S3 – 1.1993
Nearest resistance levels:
R1 – 1.2085
R2 – 1.2115
R3 – 1.2146
Trading recommendations:
The GBP/USD pair is currently being adjusted. Therefore, after the reversal of the Heiken Ashi indicator down, it is recommended to resume buying the US dollar with the goals of 1.2024 and 1.1993. Buying the pound/dollar pair is still very risky.
In addition to the technical picture, you should also take into account the fundamental data and the time of their release.
Explanation of illustrations:
The upper linear regression channel – the blue line of the unidirectional movement.
The lower linear regression channel – the purple line of the unidirectional movement.
CCI – the blue line in the indicator regression window.
The moving average (20; smoothed) – blue line on the price chart.
Murray levels – multi-colored horizontal stripes.
Heiken Ashi is an indicator that colors bars in blue or purple.
The material has been provided by InstaForex Company – www.instaforex.com