4-hour timeframe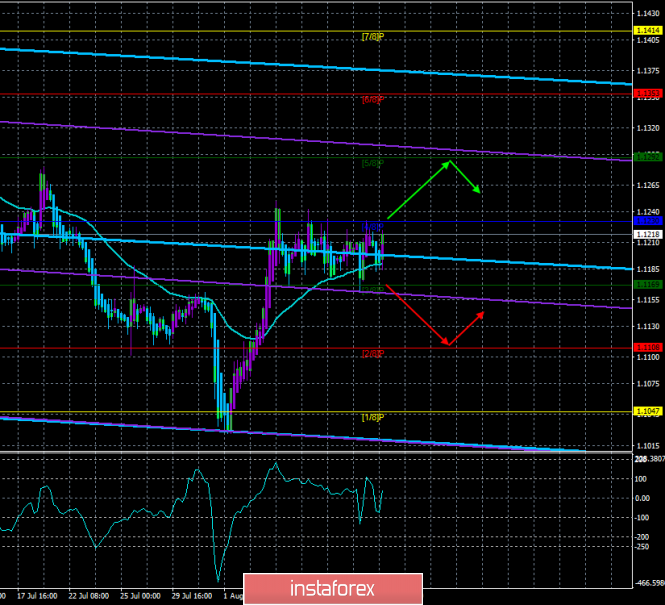 Technical data:
The upper linear regression channel: direction – down.
The lower linear regression channel: direction – down.
The moving average (20; smoothed) – up.
CCI: 40.0653
On August 13, the EUR/USD currency pair continues a frank flat. A couple of macroeconomic reports have been published so far, but none of them are really important. The economic sentiment index in the eurozone in August was at -43.6, according to research by the ZEW Institute. In Germany, the index of sentiment in the business environment also turned out to be absolutely a failure, -44.1. These reports did not have any impact on the movement of the currency pair, and should not have, but they clearly show what trends are currently prevailing in the European Union and indirectly answer the question of why the European currency is not growing, when it would seem that the situation for this is the most favorable. However, we continue to believe that despite the threat of a recession, thanks to the protectionist policy of Donald Trump, despite the fact that the Fed is ready to soften monetary policy, the US dollar yesterday still looks more attractive as a means of an investment than the euro. Although, of course, it is no longer as attractive as before. If the Fed reduces the total rate by 100 – 150 bps, as Trump wants, then the long-term downward trend for the euro/dollar pair may end. You cannot turn a blind eye to all the problems of the States, starting with the trade war with China, ending with the desire of Donald Trump to be re-elected for a second term. And these problems will affect the stock market, the foreign exchange market, the yield of securities, the monetary policy of the Fed, and the dollar.
Nearest support levels:
S1 – 1.1169
S2 – 1.1108
S3 – 1.1047
Nearest resistance levels:
R1 – 1.1230
R2 – 1.1292
R3 – 1.1353
Trading recommendations:
The euro/dollar pair continues to stay above the moving, being in a full flat. As before, we recommend buying the euro with a target of 1.1292, if traders manage to gain a foothold above the Murray level of "4/8" – 1.1230. It is recommended to sell the pair not earlier than fixing the price below the moving average line and completing the flat.
In addition to the technical picture, you should also take into account the fundamental data and the time of their release.
Explanation of illustrations:
The upper linear regression channel – the blue line of the unidirectional movement.
The lower linear regression channel – the purple line of the unidirectional movement.
CCI – the blue line in the indicator window.
The moving average (20; smoothed) – a blue line on the price chart.
Murray levels – multi-colored horizontal stripes.
Heiken Ashi is an indicator that colors bars in blue or purple.
The material has been provided by InstaForex Company – www.instaforex.com