The ECB hosted the conference "Challenges in Policy Effectiveness, Responsibility, and Reputation Communication" starts today in Frankfurt, so the market participants are wondering whether the outcome from this event will be similar to the earlier one from Sintra, Italy from July this year. It is difficult to anticipate the outcome, but it looks like the central bankers are now in a slightly different situation than before. Firstly, most central banks have outlined their path in recent times. This is a different situation since this July, when for many institutions their future strategy was unclear or we were at the threshold of a change of attitude. The ECB has now drawn up its plans for the QE program by September 2018. The decision was received as dovish, but the euro-related decline was not severe. Thus, Draghi does not have to strive to stabilize the course and, on the other hand, cares not to lead to more appreciation. As a consequence, the neutral tone should dominate. In the case of the Bank of Japan, the situation is even simpler, as here the message indicates the status quo for many months yet. Janet Yellen is bound by the fact that he leaves office in February 2018, so it would be inappropriate to comment on next year's interest rate path. And if it opted for the December hike, its words will not change much for the market valuation of 90%. Carney, chairman of the Bank of England, has the biggest leeway, who announced at the beginning of the month a rate hike but packaged in an exceptionally high tone of dovishness. BoE would like to stop the pound sterling and fuel inflation, but promising a continuation of the hike will threaten the reputation of the economy, as the economy does not allow it.
In conclusion, none of the chairpersons should go out of the way of communication, and on the other hand, events like today's Frankfurt are the main source of surprises.
Let's now take a look at the USD/JPY technical picture at the H4 time frame. The price has managed to break out of above the black trend line, but so far no new high was made, so the consolidation zone between the levels of 112.94 – 114.72.was maintained. The move up might be a simple bounce from the oversold conditions as the momentum indicator is still hovering around its fifty level. The bias remains neutral-to-bullish as long as any important levels are not violated.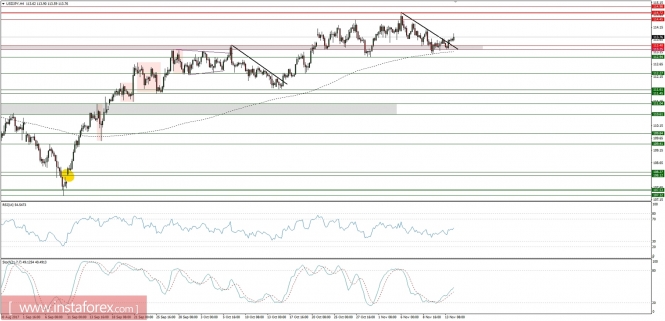 The material has been provided by InstaForex Company – www.instaforex.com