To open long positions on GBPUSD, you need:
Even in the morning review, I paid attention to the resistance of 1.1926 and recommended that in case of growth, open short positions from it, which happened. The bears did not think long and having formed a false breakout, which is clearly visible on the 5-minute chart, they continued to put pressure on the pound. The growth of the pound in the first half of the day can be attributed to good data on inflation. At the moment, the task of the bulls remains to hold the level of 1.1798, but only the formation of a false breakout in this range will be a signal to open long positions in the expectation of a return to the resistance of 1.1926, where I recommend fixing the profits. If the GBP/USD falls further, it is best to pay attention to purchases only after the support test of 1.1635, or a rebound from the year's low of 1.1470.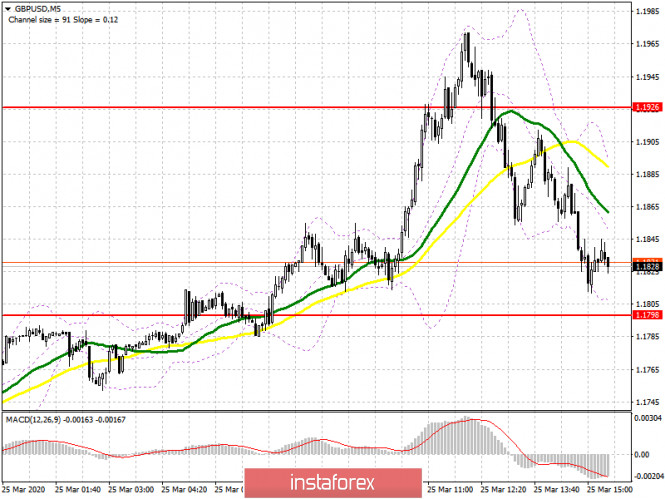 To open short positions on GBPUSD, you need:
Bears need to focus on returning to the level of 1.1798, as only a consolidation below this range will increase pressure on the pair and lead to a decrease in the support area of 1.1635. However, it will be possible to speak more boldly about the resumption of the bearish trend only after a breakout in this area, which will lead to the demolition of a number of stop orders from buyers and a faster decline in GBP/USD to the area of the year's minimum of 1.1470, where I recommend fixing the profits. If the bulls try to return to the market in the second half of the day, you can still return to short positions after a false breakout from the resistance of 1.1926, or sell the pound immediately on a rebound from the highs of 1.2023 and 1.2112, counting on correction of 60-70 points inside the day.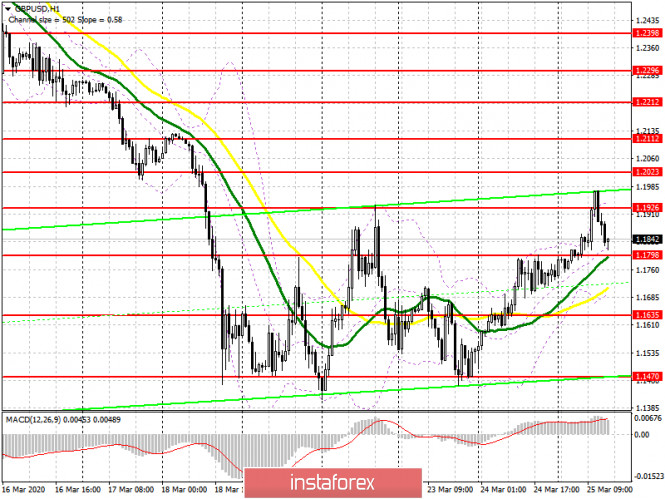 Signals of indicators:
Moving averages
Trading is conducted above the 30 and 50 daily averages, and while the market is on the side of buyers of the pound.
Bollinger Bands
In case of further decline of the pair, the lower border of the indicator around 1.1685 will act as support. Growth will be limited to the upper level around 1.1926.
Description of indicators
Moving average (moving average determines the current trend by smoothing out volatility and noise). Period 50. The graph is marked in yellow.
Moving average (moving average determines the current trend by smoothing out volatility and noise). Period 30. The graph is marked in green.
MACD indicator (Moving Average Convergence / Divergence – moving average convergence / divergence) Fast EMA period 12. Slow EMA period 26. SMA period 9
Bollinger Bands (Bollinger Bands). Period 20
The material has been provided by InstaForex Company – www.instaforex.com