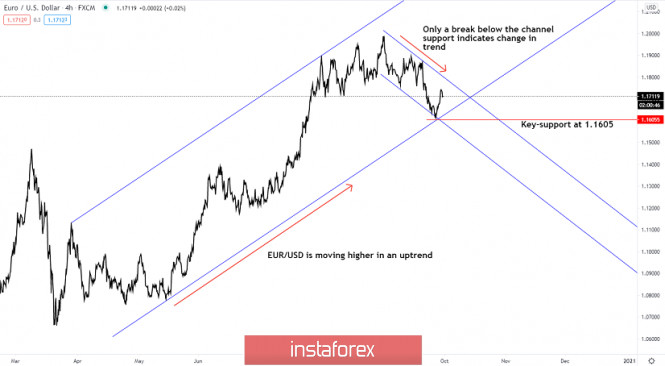 In the currency market opposite forces are at work all the time. Some companies need to buy USD and sell EUR to pay for goods or services and some companies needs to sell USD to buy EUR to pay for goods or services.
At the same time you have investors buying USD and selling EUR to buy US assets and you have investors selling USD to buy EUR to buy assets within the EU and the list of opposite forces working in the currency market goes on.
If the group of companies, investors and speculators selling USD and buying EUR is larger/stronger, than the opposite group EUR/USD will go up in price, which means you will have to pay more USD for the one EUR. In that case, we speak of EUR/USD being in an uptrend.
The above chart shows EUR/USD being in an uptrend, but within that uptrend, there will be times when the opposite forces will be equal or almost equal and the price of EUR against USD for a time will move sideways until one of the forces gains or regains the upper hand and the trend continues or it changes direction.
Currency pairs tend to move in a channel up or down and in the above chart of EUR/USD we can see that EUR/USD moved higher within the channel from mid-March to September, where EUR/USD top, at lest for now, and started a smaller channel lower. The question of course becomes has the uptrend from mid-March completed or will it continue higher?
This is still an open question. The uptrend from mid-March remains intact and only a break below key-support at 1.1605 will indicate a change in the trend from up to down, but as long as key-support at 1.1605 remains intact, we will need consider the decline from the 1.2014 peak as a temporary pause in the uptrend and more upside likely to come, once this temporary pause is complete.
Remember, that the primary trend – in this case the uptrend – is the most likely to continue rather than being reversed.
The material has been provided by InstaForex Company – www.instaforex.com