GBP/USD
On July 30, the upward wave structure continues to form on the British pound chart. The last part counts down from September 3. Since the end of last week, the price has been adjusted. The correction wave lacks the final section.
Forecast:
Today, it is expected to continue the current flat mood of the movement in recent days, mainly with a downward vector. The completion of the entire correction wave is most likely in the area of estimated support.
Recommendations:
As part of the intraday trading style, there is an opportunity to make short-term sales. For longer deals, it is wiser to skip the upcoming decline and make purchases of the pair at the end.
Resistance zone:
– 1.2360/1.2390
Support zone:
– 1.2290/1.2260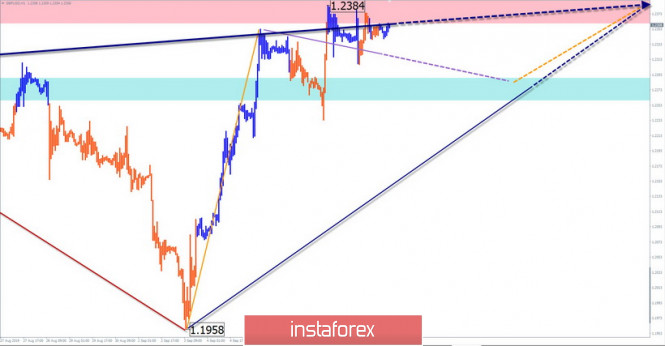 AUD/USD
Since August 7, the quotation of the "Aussie" made an upward movement. Its structure shows the formation of the final stage. The price has reached the minimum size of the upward elongation, at which the completion of the entire wave is already possible. The absence of a counter reversal signal and the incompleteness of the structure of the waves of small TF indicate the probability of continuing the rise.
Forecast:
In the morning, a flat mood is expected today. Most likely, there will be a "sideways", but a reduction to the support zone is not excluded. A return to the dominant course is possible already at the American session.
Recommendations:
Sales of the pair today are high-risk, not recommended even on small TF. The main attention should be paid to finding a suitable signal to enter a long position on this instrument.
Resistance zone:
– 0.6880/0.6910
Support zone:
– 0.6830/0.6800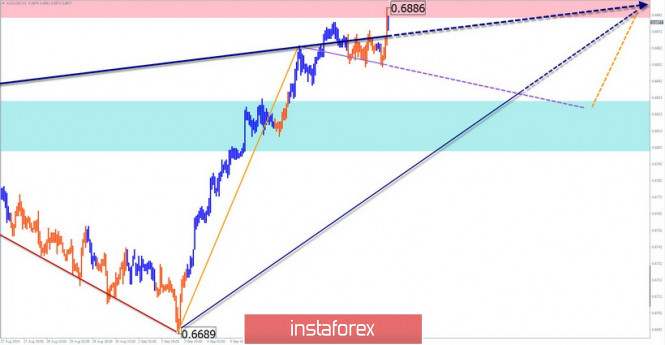 USD/CHF
The upward wave model of June 25 does not go beyond the standard plane yet. Since the end of August, the final part (C) develops, in which the price of the 2nd week forms a correction.
Forecast:
In the coming sessions, a flat mood of price fluctuations of the franc with a downward vector is expected. Downward movement may be limited to a minimum decrease, with movement in the lateral plane. The increase in volatility and the beginning of growth is likely at the end of the day or tomorrow.
Recommendations:
There are no suitable conditions for franc sales today. The optimal solution today is to skip the entire rollback down and make purchases of the pair at its end.
Resistance zone:
– 0.9920/0.9950
Support zone:
– 0.9870/0.9840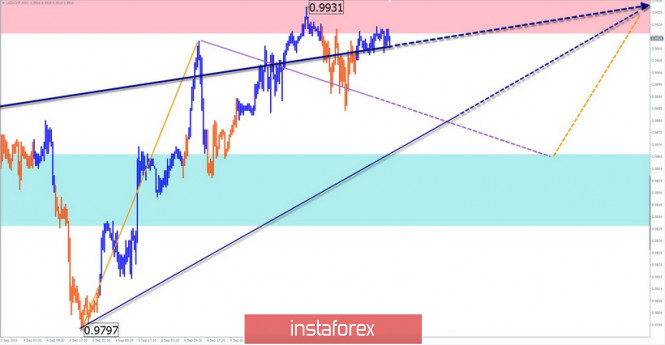 Explanations to figures: Waves in the simplified wave analysis (UVA) consist of 3 parts (A-B-C). The last, incomplete wave is analyzed. Zones show the areas with the highest probability of reversal. The arrows indicate the wave marking according to the method used by the author, the solid background is the structure formed, the dotted one is the expected movements.
Attention: The wave algorithm does not take into account the length of time the instrument moves.
The material has been provided by InstaForex Company – www.instaforex.com