Industry news:
Chair Heath Tarbert told Cheddar Monday that his agency is helping create a regulated futures market that investors would be able to "rely on" for better "price discovery, hedging and risk management."
"By allowing [cryptocurrencies] to come into the world of the CFTC," investors can better access trusted and regulated financial products, improving overall confidence in the asset class, according to Tarbert. "It's helping to legitimize [digital assets], in my view, and add liquidity to these markets," he said.
The marketplace for cryptocurrencies derivatives is expanding. Although still dominated by unregulated exchanges, it is gradually facing greater competition from regulated alternatives. Bakkt launched physically-delivered bitcoin futures last September and CME, which first launched bitcoin futures in December 2017, opened trading for options contracts Monday.
Technical analysis: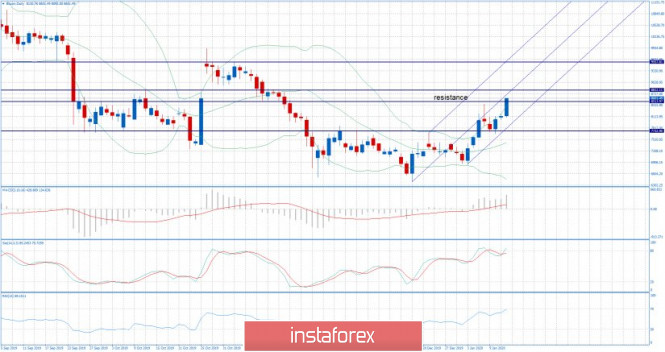 BTC has been trading upside with strong momentum and the price reached the level of $8.600. Anyway, there is solid resistance zone from $8.500-$8.800 and my advice is to be careful with long opportunities cause potential for downside correction.
Watch for any bearish pattern around the resistance zone for potential sell position and target at $7.750. In case of the upside breakout of $8.800, watch for long opportunities on the dips with the target at $9.500.
MACD oscillator is showing new momentum up and slow line is in bull mode…
Major resistance level is set at the price of $8.800.
Support levels and downward targets are set at the price of $8.420 and $7.750..
The material has been provided by InstaForex Company – www.instaforex.com